Loic Koutana by
Photography: Gleeson Paulino
Styling: Marcell Maia
Beauty: Mika Safro
Executive Production: Raphael Lobato Mirror.age
Photography assistant: Theo Casadei
Image treatment: Nicolas Leite
Fashion production: Carolina Albuquerque
Styling Assistant: Pepa
Beauty assistant: Natalia Almeida
Loic Koutana wears Clara Watanabe and Leandro Castro
Loïc Koutana (@lhommestatue) — a.k.a. L'Homme Statue — decided to travel the world as a model, performer and in the last years, as a musician. The work of the franco-african, living in Brasil, brings together the accents that Loïc learned in his journey through France, Benin, Côte d'Ivoire, Congo and São Paulo, and flirts with trip hop, hip hop, jazz that he listen to since a young age, with Brasilian popular music and with the electronic music scene that established him in the São Paulo scene.

Taking part in festivals and projects such as Mamba Negra,

Teto Preto

and

ODD

, the statue man evokes ancestry and strength wherever he goes, without ever losing the smile that was carved in him. Soon, he will release "Ser", his first studio album. Luckily for MJ, he agreed to talk about the stories he's been writing about. Check it out:
Loic wears JOÃO PIMENTA

Loic wears LEANDRO CASTRO
Loic wears CLARA WATANABE
Ma: Why L'homme? What does l'homme statue mean?


Lo: Tbh, l'homme statue came up when I was in Brasil. I remember that I was modeling a campaign and had to reproduce an image from Kerry James Marshall. I didn't have any hair and had just shaved my brows. Then, someone from the staff was passing by and said: "Wow, you look like a statue!". When I came back home later that day, this sentence made me smile.

I was raised between France, Côte d'Ivoire, Congo and Benin, and I remember to always have had this obsession with statues. In Africa, we have this kind of statue we call le penseur (the Thinkers); they're men, women and children that are always thinking, with very drastic and well-marked poses. I wished to look like these african statues, they were everything to me.

And why "l'homme" first? Why "statue man"? I never recognize myself on TV, in art, fashion or in a specific figure of masculinity. I always thought: "I will create my own vision of what it means to be a man, what it means to be a statue man".

Ma: Where were you when you wrote l'homme statue's first songs?


Lo: I always, always wrote songs, but I was never aware that I was writing music. During my childhood, going to school or to university in France, I liked to watch people on the metro and imagine how their lives would be, what was going on inside their minds, so I always wrote a lot about these situations.

I'm part of a family that is very connected with music, so I always had this notion on how to write songs, but never properly acknowledged myself as a writer. When I arrived in Brasil and started to write this album with Zopelar [Pedro Zopelar is a multi-instrumentalist and music producer well known and respected in the electronic scene], he told me: "Well, let's start to think of some lyrics''. Then I got my phone and noticed that I had a lot of texts from my childhood, texts that are actually really powerful as they kept an expression style from each part of my life.

The tracks from my first studio album, "Ser", that is done and soon to be released, I wrote at Chapada da Diamantina, in a time I was feeling quite overwhelmed, had a lot going on in my mind. I remember that when I got there, I sat on a stone, and after crying a lot, I felt empty. Then some notes started to come to mind. We stayed there for about three weeks, and throughout that period I wrote songs or improved these texts and poems that I used to have.

Ma: And what is your first album about?


Lo: The album is called "Ser", "être" in french. I have this tattoo on my hand to remind me that, on my path on earth, I have to be: sincere, be me, be like the inadequacy and alignment with myself. I think we spend so much time trying to prove to people what we are, trying to prove our worth, that we simply forget to be, because being also means the good and the bad, the cool and the less cool, the sensitive, the strong, the weak, you know?

This album also talks about my journey as a young, black and franco-african artist in Brasil, you know? I also talk a lot about love, like a lot! I was even surprised afterward to see how much I talk about it in the album. I love to talk about free love, jealousy, the fear of losing, empowerment, to impose myself in an industry that is not always ready to receive us (us blacks), and also this thing of always having to prove ourselves, you know? I also want to take my chair in this big industry, sit down and occupy that space.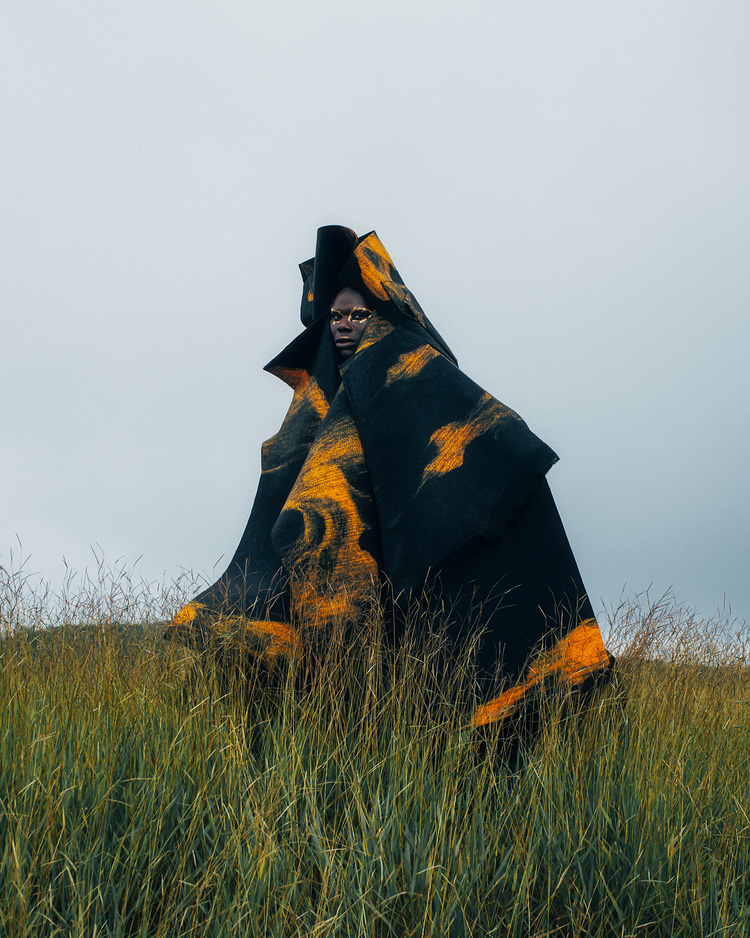 Loic wears LEANDRO CASTRO
Loic wears LEANDRO CASTRO
Ra: How long have you been preparing "Ser"?
Lo: I've been working on this album since November, 2018. It has 13 or 14 tracks. Each song has its own universe, completely different from each other; there's no such thing as an entire rap, R&B or rock album. I am franco-african in Brazil, that in itself already carries different cultures, some uniqueness, and I couldn't help but put that on the album. So I think it was really a choice, from within the l'homme statue career, to speak a lot of languages and also to speak Portuguese freely the way I speak, with my mistakes and my expressions, and French with my experience. So the album has a lot of musicalities and also many languages crossing each other.

The inspirations are more towards R&B, rap, but there is also funk and rock. The artists I admire the most are Frank Ocean, SZA, Chloe x Halle, Solange, King Krule, Mount Kimbie, Milton Nascimento, Luedji Luna and Pabllo Vittar. I don't know but there are so many artists that I admire and inspire me in my daily life that I think I wanted to put a little bit of all of that on this album.

Ra: If you were an avatar or a magical being, what would it be?
Lo: Tbh I thought of this question today, without even reading this interview… I was watching some cartoons on my phone that I used to see when I was younger. I used to love watching "Avatar - The Last Airbender". I feel like this is a cartoon I can watch for the rest of my life as it carries a lot within. Sometimes I think that cartoons have a lot of wisdom; they are able to answer some questions that we simply can't nowadays, in a more practical and didactic way.

What I love about the Last Airbender is that he is a young boy who can control the elements: air, water, fire and earth. I wish I had these powers, because these four elements complement each other. And what I love about Avatar is that he is a kid, a little boy, but he has many things in life to face. When he has to be brave, he can become the best version of himself; his eyes change, his posture changes, and he has to face it.

Ra: Final notes?
Lo: The l'homme statue is a very visual project. The image world has always been present and important to me. We like to call designers and creators from all over Brazil. For me it's also very important to get up and take the stage for more people to grow and evolve.

I also want to thank my team. I think about Doug Bernardt, who made the video "Braços / Vela"; Fred Ouro Preto, Pedro Pejada, Zopelar, Sofia Nerim, Stink ... I think that's it. Feel the image of the l'homme statue that I have in my head!
Loic wears LEANDRO CASTRO
Loic wears CLARA WATANABE