Conversation/ Vicenta Perrota and Rafa Kennedy
Editor Igi Lola Ayedun
Interview Ana Carolina Rodarte
Pretynha Vaskes by Rafa Kennedy para Vicenta Perrota, Casa de Criadores, 2020


Polyphonic guides to tomorrow's path


The creative process expands beyond dualities; potentializing itself in the plurality and, thus, carrying within, a disruptive force, proper to what wants to be made greater by simply turning ideas. For the designer and art educator Vicenta Perrotta, the collectivity is taken to the last consequences. In the latest edition of Casa de Criadores, she joined the DoP and her co-pilot at Ateliê Transmoras, Rafa Kennedy, to create a polyphonic fashion film. With concepts that involved the contemplation of transvestigenderers to pop performances, Perrotta and the studio's multipliers, embodied the power of those who were born ready to shift any and every assumptions around gender, race, class and isms. With the pieces they co-created during the period of social distancing in Brasil, they showed that new perceptions of bodies can be activated through transmuted pieces - going beyond what we know as upcycling, within the neoliberal perspective of validating consumption. And it was to give us this sign of a more challenging, plural and collective future that Perrotta and Kennedy joined us for this interview.




Vicenta, where are you coming from?

VICENTA: I'm from Campinas (São Paulo). My atelier is a squad, situated in the student housing facilities of Unicamp, the Atelier Transmoras. It's a space of supports to projects proposed by trans* peers, connected to fashion and audio-visual practices, involving sewing and the transmutation of textile.


Rafa, when did you start working with Vicenta?

RAFA: My work with Vicenta started when we connected here in the university area of Campinas, near to Unicamp [Public University of the State of São Paulo]. I came here in 2013, running away from a family process, and I graduated in photography. And in this process of connecting with people, I met Vicenta, who I saw another possibility of corporeality.
We started to create different collaborations from the time we met and I started to understand more about the transvestite world. Vicenta's clothing builds that in every non-finish detail. Based on those lines, I learned to perceive myself politically. In 2017, Vicenta invited me to occupy the Ateliê space. And there, I started to enter other places rather than just photography.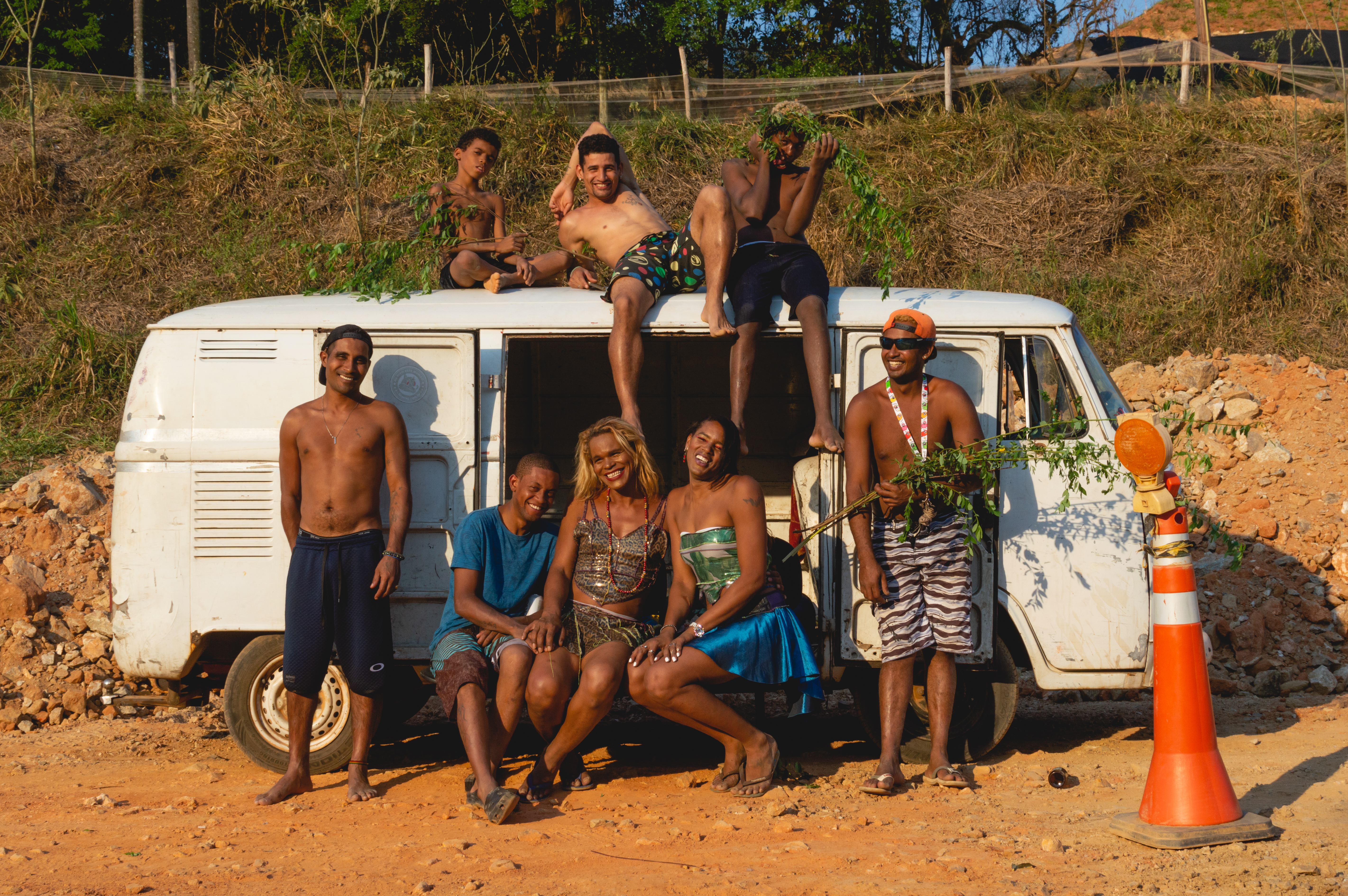 Dil and Pretynha Vaskes by Rafa Kennedy para Vicenta Perrota, Casa de Criadores, 2020
Vicenta and Rafa, how is to be a part of Casa dos Criadores in 2020?

V: It was an achievement and hard work. When the pandemic started and everything was closed, I started talking to André Hidalgo [journalist and CEO of Casa de Criadores] about the possibilities of the event.
Every moment of crisis has a very important role in how to politically conduct a society. We had to come up with a solution, which was very interesting for the collective of trans* people. Many of us started to produce a lot. We created the Marsha festival [to raise funds for transgender people in situations of social vulnerability] and this whole discussion came to the organization of Casa de Criadores. Many people were afraid to think that they would not be able to present quality work, but ... what is quality? We are creators, we are designers, we had to present something.
And that was how I managed to cast other trans people for Casa de Criadores. For me, it was important.

R: In this pandemic reality that we live in, this place of isolation, all that cisgenerity has been experiencing, transvestigenderes have been experiencing for years. It has been a year in which transvestis have crossed this sea. It is as if chaos had already happened, because the transvestis already managed to break in into it - without romanticizing it, because this shit is real. We have been going through this year in a very strategic way.


by Rafa Kennedy para Vicenta Perrota, Casa de Criadores, 2020
Vicenta and Rafa, can you share with us a bit about your creative process in this collection and fashion film?

V: I'm constantly basing my creative process on my daily relationships. Before, 2013 and back, I used to make cisgendered clothing. But everything I produce has a strong political statement behind. [I started to notice that] To be inspired by the cisgendered and european past it is a mechanism used by the industry to keep on with the colonial dream. And I was already working with patches. There, near Unicamp's student housing, there is an exchange point where people discard clothes and objects, which many consider to be garbage. Garbage for me is not pejorative; garbage is a place where many transvestis* find power - at least those that are permeating the textile transmutation. Then I was destroying the clothes and making others. And from that, my cognitive was also transitioning.
Today I am also an art educator and I propose discussion exercises that involve the elaboration of clothes. These exercises were putting me in other places. I let myself be crossed by the collective; I allow myself to be a collective construction. And in the Casa de Criadores catwalk, I brought people who are always around me. I wanted to show the multipliers, the sisters that have been with me since the beginning. Our network is a network of support and affection. We understood that affectivity is very important for us to survive.

R: The film "Dandara" is, within my imagery and the things I feel from the transvestis* in Brasil, another place that is created in the midst of violence. In everything we are inserted systematically, the end is violence. Violence converges with this capitalist process. A body that is at the margin of this is the body of the transvesti*. Transvestis* manage, in some way, to build life within this cycle of violence.
I suggest that maybe this place is Dandara. This poetic place of connection, life force, axé and magic that transvestis* carry around in order to stay where they are.

Dil Vaskes by Rafa Kennedy para Vicenta Perrota, Casa de Criadores, 2020
And why have an authentic fashion brand in 2020?
V: Why not?. It is one of my survival mechanisms, to occupy that public space at Unicamp; and that it is a clandestine space, Unicamp does not want to see transvestis* there. My work as a stylist and artist works hard in favor of staying in that place.

I feel very responsible as a stylist. My sisters are already producing from my work. The issue of textile transmutation is here to stay and it is our technology, of Brasilian transvestis*.
I understand that my clothes can reach people's cognitive. I see a lot that this industrialized fashion is a wrapper of a body that is not questioned. She wears a body for which everything has been thought of. And my clothes make people wonder. The collar goes on the leg. This affects people's cognitive abilities.

Something you deeply miss from the pre-pandemic world:
V: None. Because, almost nothing has changed. Conservatism is very present. Still, without trivializing death, this was a very important process for us to take a leap as professionals. Our work came to fruition, we remained, as business, as artists, as proponents, as creators. We showed how to occupy spaces. One more time.

And what do you see in the future of fashion, after these apocalyptic times?

V: I think that from this Casa de Criadores process, we were able to put the crowd to think and propose another way of consuming. Better understand how consumption is given or takes place. ︎